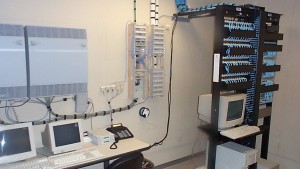 We are network cable installers in Denver, Colorado.  Get the office data cabling IT infrastructure you need with none of the worry.
Whether you need 1 or 100 network locations we can help.  1 Network Services can provide data cabling for all your voice and data wiring needs.    We can install and test Cat 3, Cat 5, and Cat5e ethernet network cabling in the Parker and Denver metro areas of Colorado.
Data Cabling, Phone Wiring – Cat 5e or Cat 6
Data Centers
Intra-building backbone systems – Data & Voice within Buildings
Patch Panel Terminations
Server Room Design / Build
Structured Cable Design
Structured Cabling Solutions
Our recommendation is for all new cabling infrastructure and cable additions be done to Category 5e or Category 6 specifications.  Data communications can perform up to Gigabit speed with properly installed and tested Category 5e or Category 6 cable systems.  All types of voice systems can also be run on either.
We also provide network cable removal service.  If you need the cable removed at the end of your lease or removed prior to moving into an existing space give us a call.  By recovering and recycling the cable we provide you with a very cost effective means of cleaning your space.